About the Clinic Hands On Physical Therapy - West
Hands on Physical Therapy is an all encompassed practice dedicated to your personal goals. We are proud to be an integral part of the Cheyenne community and look forward to working with you to provide highly effective and state of the art treatments. We are skilled in many aspects of Physical Therapy and clinical specialists in many areas. We are highly trained Physical Therapists with experience in multiple settings. Our passion is dedicated towards helping anyone who is looking to make an improvement in his or her physical function. Physical Therapy is a balance of Science and Art. We are experts in the study of human movement and how our daily lives contribute to pain, dysfunction, weakness, compensation and loss of mobility. Our team is dedicated to promoting, guiding, and demonstrating a healthy and active lifestyle. We always welcome new patients and depending on your insurance plan you typically do not need a referral to see us. We are proud to offer a few treatment options that are unique to our office, we are on the cutting edge of health care and have proven to be very successful in the aide of prevention of surgery, return to lost hobbies and dreams, and all together improvement in general quality of life. At Hands on Physical Therapy we dedicate your appointment time to you. Our appointments generally last 45 min and your treatments will be tailored to you. You will always be working with a licensed physical therapist professional. We believe that you deserve the best care and treatment possible and this involves 1-on-1 care.
We are Medicare and Medicaid providers. We are pleased to note that we are preferred providers of the following insurance plans:
Blue Cross/Blue Shield
Tricare
Staff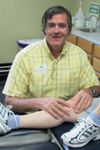 Ken Abbott, PT Ken is a graduate of the University of Texas Health Science Center at San Antonio program in Physical Therapy and has a post-graduate degree in Health Administration from Chapman University. He serves as Clinical Instructor for many Physical Therapy programs. He is experienced in inpatient/outpatient cardiac rehabilitation, wound care, and osteopathic manipulative therapy (OMT). He has extensive training and experience in primary care orthopedics, occupational medicine and is a Diplomate of the American Academy of Woundcare Management. He is happily married to his wife of 33 years, Betty. His interests include woodworking, and outdoor activities.
Kiersten Steinkraus, PT, PDT Kiersten is originally from Laramie, Wyoming where she was a competitive gymnast. She graduated from the University of Wyoming with her Bachelor of Science degree in Kinesiology and Health Promotion in 2013, and received her Doctor of Physical Therapy degree from Regis University in 2016. She is excited to be back in Wyoming. Kiersten is passionate about motivating and inspiring her patients to get the most out of their bodies. Although she enjoys working with patients of all diagnoses, she has a strong interest in treating sports related injuries, headaches and dizziness. When not working, Kiersten enjoys spending time with family and friends, attending UW sporting events, watching football, traveling and eating good food. She is also a compulsory and optional gymnastics judge within a five state area.