About the Clinic - Wyoming Center for Dizziness and Balance - Prairie Ave.
Dizziness and balance disorders can affect anyone - young or old - but the resulting impairments vary considerably. Symptoms of a dizziness or balance disorder may include:
A constant sense of dizziness, wooziness, or unstableness that is intensified by performing everyday activities such as walking, rolling over in bed, or glancing around a room.
Inability to walk independent of assistance from people or objects.
Continual falls or stumbles while performing normal, everyday activities.
Symptoms of dizziness and balance disorders such as these make performing simple, everyday tasks stressful, and fulfilling job responsibilities even more taxing. Some patients find the idea of leaving their home without assistance unbearable. Without treatment, patients cannot function normally and enjoy everything life has to offer.
At the Wyoming Center for Dizziness & Balance, our team approach to treatment offers patients the freedom to return to their lives.
Together, our team implements an effective treatment plan to help patients regain mobility and the quality of life they deserve. Treatment reduces, and often eliminates, the symptoms of dizziness and balance disorders, allowing patients to feel more comfortable with daily activities. Treatments also allow for patient education to help reduce the chance of injury or relapse, giving patients added confidence and comfort to perform everyday activities on their own.
Staff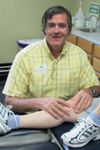 Ken Abbott, PT, is a graduate of the University of Texas Health Science Center at San Antonio program in Physical Therapy and has a post-graduate degree in Health Administration from Chapman University. He has served as Clinical Instructor for many Physical Therapy programs. He is experienced in inpatient/outpatient cardiac rehabilitation, wound care, and osteopathic manipulative therapy (OMT). He has extensive training and experience in primary care orthopedics, occupational medicine and is a Diplomate of the American Academy of Woundcare Management.
He is happily married to his wife of 31 years, Betty. His interests include woodworking, and a continuing log cabin project near Albany, Wyoming.